Latest news
This page will be regularly updated with the latest Hyde Park Picture House news and developments.
Mon. 30th May, 2022
Changes to our ticketing system
We wanted to let you know about some recent changes taking place behind the scenes in relation to our box office system.
The Picture House's two sister venues – City Varieties Music Hall and Leeds Grand Theatre – have recently begun using Spektrix, the same box office system as the cinema. Because all three Leeds Heritage Theatres venues are now using the same ticketing operator, it has made both operational and financial sense for us all to move to the same system, which is what took place last weekend.
Because the Picture House is still using the same ticketing operator, these recent changes should be fairly invisible for most HPPH customers. But in future it'll mean that you now only need one account to purchase tickets for all three of our venues. It also means we can better help with any cross-venue queries too, as well as offer more cross-venue benefits like vouchers and membership rewards which are redeemable across the entire Leeds Heritage Theatres organisation.
If you already have a Picture House account, when you next try to login to purchase tickets, you will be emailed a link which you'll need to open before then proceeding through checkout. At the end of checkout you'll then be prompted to reset your password – at which point your account will be fully updated and ready to use across all three venues.
During your next checkout you will also be asked to confirm your contact preferences with us, with the option to hear from all three venues if you'd like to. If you are already signed up to receiving emails from HPPH, and do not update your contact preferences, you'll continue to hear from us like before. You are of course totally free to unsubscribe from our emails at any time, by clicking the unsubscribe link at the bottom of any email we send you.
Whilst we've been working hard to make these changes as seamless as possible, inevitably, when making these kind of administrative changes, there's usually one or two teething issues along the way. So if you are experiencing any problems, please do get in touch and we'll be very happy to help. The best way to reach us is by emailing: info@hydeparkpicturehouse.co.uk
Thanks for reading!
---
Thu. 20th January, 2022
Safety measures to be maintained at all LUU screenings
Following recent government announcements on the relaxing of Covid rules and restrictions in England, we wanted to update audiences on the safety measures that will remain in place at our Leeds University Union screenings.
We will be maintaining social distancing and a reduced capacity at all of our upcoming screenings for the time being – which means there will continue to be additional space between single and pairs of seats. This will be reviewed regularly, and we will update audiences as and when this changes.
We will also be maintaining all our other safety measures, including contactless ticket checking, card only payments and hand-sanitiser available near the entrance.
While face coverings for audiences are no longer mandatory, our staff will continue to wear them and we'd encourage audiences to wear them when entering and leaving the screening room. We'd also ask if you can maintain a respectful distance from others when moving around the building.
Thanks for your help and understanding as we continue to provide a safe and enjoyable space for audiences to enjoy film in Leeds.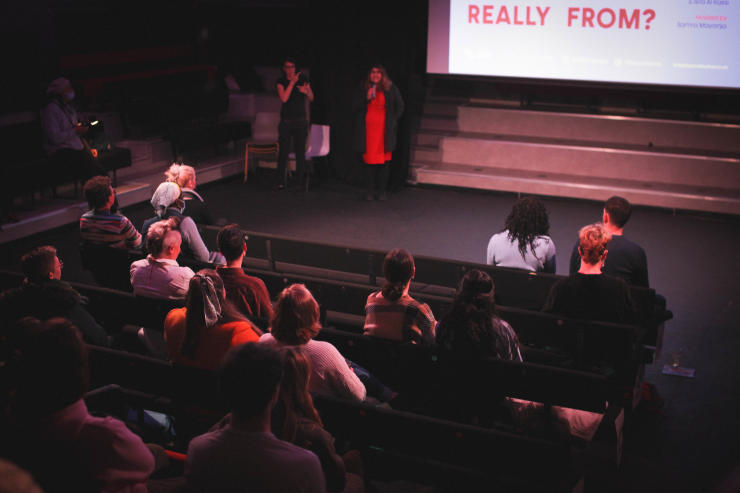 ---
Tue. 11th January, 2022
Winter Fundraiser total announced!
A huge heartfelt THANK YOU to everyone who supported our recent Winter Fundraiser campaign. Thanks to 843 individual donations, we were able to raise an incredible £57,538!
This money will help us carry out vital repair and conservation work over the coming months, as well as allow us to install some great new seating at the Picture House, ahead of our reopening.
Our Sponsor a Seat scheme will continue until all the seats in our auditorium have been sponsored. But with more than two thirds already allocated, don't wait too much longer! More details here.
---
Thu. 15th July, 2021
Update on On the Road safety procedures
With national restrictions in England set change once again from this Monday, we wanted to update you on what this means for all of our On the Road screenings.
In order to ensure our screenings continue to remain both safe and accessible, we've decided to maintain the majority of the safety measures that we already have in place. This includes encouraging audiences to continue wearing face masks or coverings when they enter and move around the buildings.
Socially distanced seating at Leeds University Union and HEART - Headingley Enterprise and Arts Centre will remain the same. And laster this August, audiences at City Varieties Music Hall will be able to choose between regular and socially-distanced seating – with dedicated areas for each. This means that for audiences who are particularly vulnerable, or feel more comfortable in a socially distanced setting, they can continue feeling safe visiting all three of our On the Road venues.
We will be keeping our safety measures under constant review. For for the very latest details, please visit our On the Road page.
---
Mon. 16th April, 2021
City Varieties' Movie Nights to resume from 17th May
With further easing of restrictions scheduled next month, we're currently working with our sister venue, the City Varieties Music Hall, to resume film screenings at the theatre from 17th May – as part of our off-site On the Road film programme.
Movie Nights will bring together new independent releases, with classics and live theatre, allowing audiences to enjoy brilliant films on the big screen once again.
Like with the screenings we held at the City Varieties last October, audience safety remains our number one priority, with socially distanced seating, regular additional cleaning, one-way systems and temperature checks all in place.
We'll be sharing details of the film programme at the end of this month, at which point tickets will also go on sale – so please check our website in two weeks time, or keep an eye on our social media channels for the very latest.
---
Fri. 19th February, 2021
Historic cinema redevelopment to begin this spring, following Capital Kickstart Fund award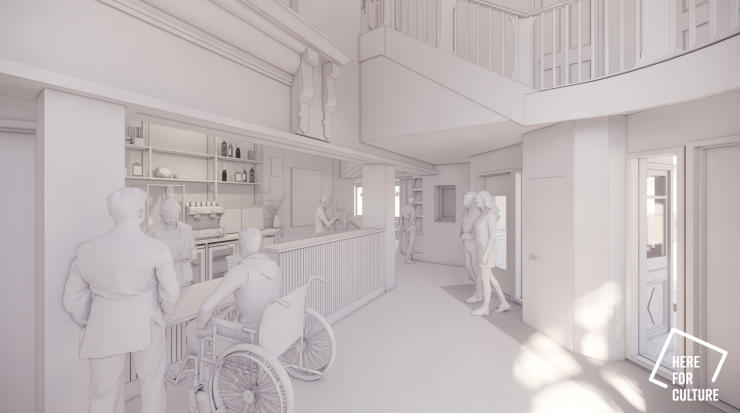 Work on the Hyde Park Picture House's transformational redevelopment project is set to begin this April, thanks to a successful £285,600 Capital Kickstart Fund award from the National Lottery Heritage Fund and the government's Culture Recovery Fund.
Combining vital restoration work with the creation of new accessible facilities, the cinema's Picture House Project had been on pause for the past 10 months due to the pandemic but will now proceed as planned, with completion expected in May 2022.
The multi-million-pound scheme will safeguard the cinema's nationally significant heritage, including repair and conservation of its unique gas-lamps, iconic Burmantofts tiled façade, original terrazzo flooring and Grade II listed exterior lamppost. The introduction of a new ramped entrance, accessible toilets, an expanded foyer and new 52 seat basement screen also means the cinema's capacity and accessibility will be greatly improved.
Designed by award-winning architects Page\Park and engineering specialists Buro Happold, the project will take 13 months to complete and is being delivered by Triton Construction, with support from Gardiner & Theobald and Avison Young. During this time the Picture House will continue to screen films in venues across Leeds as part of its On the Road off-site film programme, which began last year but is currently on hold until restrictions ease.
Established to support capital projects which have been negatively affected by Covid-19, the Capital Kickstart Fund is administered by the National Lottery Heritage Fund and the Department for Digital, Culture, Media and Sport, and forms part of the government's wider £1.57bn Culture Recovery Fund.
News of this funding follows a £2.3million National Lottery Heritage Fund grant, awarded to the Picture House Project 2018, as well as crucial support from Leeds City Council, the Garfield Weston Foundation, the British Film Institute and others. Later this year the Picture House plans to launch a new community fundraising campaign, asking audiences to help raise the final amount required to complete the project.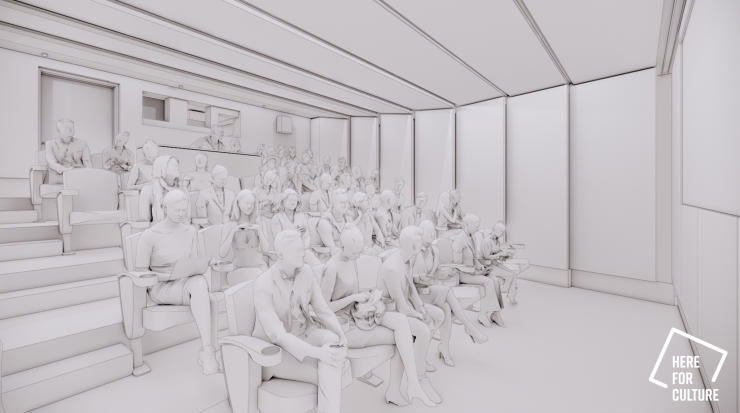 Wendy Cook, Head of Cinema at the Hyde Park Picture House, said:
"After a challenging period of prolonged uncertainty, we're over the moon that work on The Picture House Project is finally about to begin. Not only will this project revitalise and safeguard a building that so many of us love, but it will allow the cinema to become a more inclusive venue, welcoming new audiences thanks to an expanded film programme, huge improvements to accessibility and new community-focused activity for visitors young and old."
Mark Johnston, Lead Architect at Page\Park, said:
"Since we began working with the cinema in 2016, we've come to learn why this little Edwardian Picture House is cherished by so many in Leeds and beyond. As architects who specialise in the conservation and refurbishment of heritage buildings, our aim, every step of the way, is to preserve the cinema's important history and character whilst sensitively introducing new elements which allow the building to work for audiences in the 21st century. We're really thrilled to be part of the next chapter in this cinema's long and remarkable journey."
Chris Blythe, CEO of Leeds Heritage Theatres, said:
"These past 12 months have been extraordinarily difficult for all three of our heritage venues, but they've also shown us why plans to invest in our collective future are needed now more than ever. Thanks to the continued support of the National Lottery Heritage Fund and the Department for Digital, Culture, Media and Sport, I'm confident that the cinema will not only come out of this pandemic stronger and more resilient, but also able to support its audiences and wonderful community like never before."
Councillor Judith Blake, Leader of Leeds City Council, said:
"As a city and as a society, responding to Covid-19 has required flexibility and inventiveness to an extent we didn't realise was possible twelve months ago. While we still have a great deal of work ahead to keep managing the immediate and life changing pressures of this crisis, part of our recovery must also be about ensuring our plans, our hopes and our aspirations for the future are also realised. It's with this view to the future that we're proud to be supporting The Picture House Project and we're excited that this invaluable support from the National Lottery Heritage Fund brings more national investment in the cultural and heritage infrastructure in our city."
Oliver Dowden MP, Secretary of State for Digital, Culture, Media and Sport, said:
"From restoring Georgian lidos and Roman baths to saving local screens and synagogues, our Culture Recovery Fund is helping to save the places people can't wait to get back to, when it is safe to do so. All over the country, this funding is protecting the venues that have shaped our history and make us proud of our communities, whilst safeguarding the livelihoods of the people that work in them."
More information about the upcoming redevelopment, including proposed plans, videos, a project timeline and more, can be found at: thepicturehouseproject.com
---
Wed. 9th December, 2020
With Leeds currently under Tier 3 restrictions, which now prohibit film screenings from taking place, our On the Road programme of off-site screenings remains on pause.
While Leeds' Tier 3 status is set to be reviewed by 16th December, the decision of this review unfortunately won't provide us with enough time to deliver any public screenings at the City Varieties before Christmas. If restrictions do ease and allow us to resume screenings at the City Varieties, we will do so as soon as we can in the new year.
As soon as we know more details about the resumption of our On the Road programme , we'll share an update here – so please do check back soon, or keep an eye on our social channels for the very latest.
In meantime we'll be continuing to share film recommendations with Hyde Park Picks, supporting the release of new films with our Watch Online collection, and shipping you our new merchandise in time for Christmas.
Thanks and stay safe!
---
Mon. 2nd November, 2020
Following new lockdown restrictions this Thursday, we will sadly be pressing pause on our screenings at City Varieties Music Hall. We hope to resume these as soon as we can.
This week, all scheduled screenings of Saint Maud will go ahead as planned. We're sorry that Thursday's screening of Idiot Prayer has been cancelled and for anyone who has already booked tickets, you'll hear from the Leeds Heritage Theatres box office team soon.
We've really enjoyed this short period of screening films again, and want to thank everyone who's attended in recent weeks. Its a real blow to have to pause our #HPPHOnTheRoad programme once more, just as we were finding our feet again. And whilst we're hugely grateful for the recent support we received from the Cultural Recovery Fund, this forced closure will further impact our business and ability to generate income.
So for anyone keen to continue supporting the cinema over the coming weeks, please visit our website's support page, where there are details of how you can help us through another challenging period.
We'll be continuing to share great films available to enjoy online, via excellent digital releases on our website and regular #HydeParkPicks on social media.
Stay safe and well – see you all on the other side.
---


Sat. 24th October, 2020
Together with our Leeds Heritage Theatres' sister venues – Leeds Grand Theatre and City Varieties Music Hall – we're delighted to announce that we'll be receiving £1,545,163 as part of the Culture Recovery Fund.
The past seven months have been an incredibly challenging for all three venues – with cancelled events and forced closures resulting in a devastating loss of income for the whole company. So this vital support from Arts Council England the Department for Culture, Media and Sport is a massive lifeline, and will go a long way to protecting our buildings and safeguarding future.
You can read more about the impact this will have on our wider company, and a response from our CEO Chris Blythe, here.
For the Picture House specifically, it comes at a crucial time – helping us to continue our off-site screenings as well as get our redevelopment project back on track, following a necessary pause back in March.
Please check back here for the latest updates, as well as our dedicated project microsite: thepicturehouseproject.com
---
Fri. 16th October, 2020
With redevelopment work at the Hyde Park Picture House set to begin later this year, we're delighted that On the Road – our off-site film programme – has now resumed. You can now enjoy regular film screenings at our beautiful sister-venue City Varieties Music Hall in Leeds city centre.
Combining new releases, with live theatre recordings and timeless classics – Movie Nights at City Varieties is a brand new programme, presented by Leeds Heritage Theatres.
For those that don't know – Leeds Heritage Theatres is Hyde Park Picture House, City Varieties Music Hall and Leeds Grand Theatre.
Audience safety at these screenings remains our number one priority and we've been working hard behind the scenes to implement lots of important procedures:
》Regular temperature checks on arrival
》One-way systems throughout the building
》Reduced capacity and socially distanced seating
》Multiple hand-sanitising stations at key points
》Mask-wearing throughout the venue
》Additional cleaning and PPE worn by all staff
You can read more about our safety measures via this Leeds Heritage Theatres page.
To see what's on and to book tickets, visit the Movie Nights page on our website.
---
Thu. 17th Septmeber, 2020
With the cinema remaining closed, and work continuing behind the scenes to get the redevelopment project underway, the Picture House's off-site On the Road programme is set to resume this autumn – with screenings planned at Leeds University, HEART and the City Varieties Music Hall.
A new film programme will be shared in the coming weeks, so keep an eye on our social media for the latest, or check the our website's what's on page for the latest confirmed screenings.
---
Mon. 6th July, 2020
The Hyde Park Picture House remains closed and is not expected to reopen this year.
While work on our upcoming redevelopment is still proceeding as planned, recent events have caused the project to be delayed by a number of months, as we ensure it can delivered in a way that is both safe and responsible. A new timetable for when building works take place , and a date for when the cinema will reopen, will be shared later this summer.
Following the cancellation of all scheduled off-site screenings, we're currently exploring the viability of resuming these later this year. The wellbeing of our staff and audiences is our number one priority, and screenings will only resume when we be can be confident they can be delivered safely and in accordance with government guidelines.
A large number of the cinema's core staffing team remain furloughed, meaning the cinema is running at a reduced capacity. However work is continuing behind the scenes, on both the redevelopment, as well as delivering public activity including daily film recommendations (Hyde Park Picks) and exciting projects like Hiding in Plain Sight.
---
Tue. 24th March, 2pm, 2020
Following the government announcement yesterday requiring everyone to stay at home wherever possible – staff at the Hyde Park Picture House will no longer be working from the cinema and we'll no longer be accepting food bank collections for at least the next three weeks.
This means the cinema's phone-lines will no longer be picked-up. If you would like to get in touch, please email info@hydeparkpicturehouse.co.uk
All of our off-site screening remaining cancelled, and we'll update you as soon as we can with an idea of when these can resume. For anyone who has booked a ticket for one of these screening, you will be emailed with details of how to arrange a refund. We're emailing customers on a rolling basis, so if your screening isn't for a little while, you'll hear from us nearer the time.
In the meantime, we've now launched Hyde Park Picks – daily recommendations from the Hyde Park Picture House, of where you can find brilliant independent films to stream online. We will be sharing these picks every day via our social media channels, and they'll also be available to view here on our website.
Please stay safe out there!
---
Tue. 17th March, 1pm, 2020
In response to yesterday's advice from the UK Government – and to ensure the safety of our audiences and staff – the Hyde Park Picture House will be cancelling all upcoming screenings from today. This includes all final screenings that were due to take place at the Picture House, as well as upcoming 'On the Road' off-site screenings.
At this stage we're unable to say when our off-site screenings will resume, but we will be providing regular updates as the situation develops, and hope to continue screenings as soon as the government advice recommends that it is safe to do so.
This decision is in-line with our wider company – Leeds Grand Theatre & Opera House Ltd. – which has also announced that both the Leeds Grand Theatre and the City Varieties will cease public performances from today.
Work on our upcoming redevelopment will be proceeding as planned, and we're currently in the process of appointing a project contractor before work will begin on site. We do anticipate there may be some delay to when work will begin as a result of the current situation.
We will be emailing all customers who have booked tickets for upcoming screenings, with details of whether the performance will be rescheduled or cancelled, and how they can go about receiving a refund or a credit on their account (if they choose).
This is an uncertain and unprecedented time for the Hyde Park Picture House and the wider cultural and hospitality sector. We would encourage you to continue to support independent businesses in whatever way you can – whether that is ordering items that can be delivered, or purchasing vouchers, memberships and other items that can be enjoyed at a later date. We will be providing new means for audiences to support the Picture House in this way over the coming weeks, as well exploring new ways we can continue to be sharing films with you remotely.
Take care of one another and we hope it's not too long before we're able to screen films for you once again.
---
Mon. 16th March, 10pm, 2020
Following the latest government advice today requiring members of the public to avoid non-essential social contact – and to ensure the safety of our audiences and staff – there will be significant changes to our scheduled screenings over the coming days and weeks, including cancellations.
We will be providing a much fuller update tomorrow, including which screenings are effected and how audiences can go about receiving refunds and/or credit for any pre-booked tickets.
We can confirm that tomorrow and Wednesday's screenings of Withnail and I at The Brunswick have now been rescheduled and all customers who had pre-booked tickets have been emailed with more details.
We're know this is an extremely challenging time at the moment – both for individuals and businesses. We'd like to thank our partners, staff and our incredible audiences for being so understanding and supportive. Let's continue to look out for each other as best we can.
---
Sun. 15th March, 2pm, 2020
We are closely following the advice of the UK Government and Public Health England and will continue to monitor the situation and our response.
Currently all upcoming performances are still due to go ahead, including off-site screenings of Portrait of a Lady on Fire and Crossing Family Boundaries at Leeds University Union on Sunday 15th and Monday 16th March, as well as our screening of The Seventh Seal at the Picture House on the 17th March.
In order to ensure the safety of customers and staff, we're also taking the following steps:
• We have limited capacity at screenings to ensure there is additional space between those attending.


• All of our volunteers and staff are being encouraged to follow official government advice and self-isolate at home if they develop any minor symptoms.


• Toilets all have additional hand soap available, and hand sanitiser dispensers have been installed throughout Leeds University Union.


• Additional cleaning is taking place at venues, including of hand-touched surfaces such as door handles and hand rails.


• We'd also like to encourage all audience members to regularly and thoroughly wash their hands, and not to attend a screening if they develop any mild symptoms, but remain at home in-line with government advice.
We're aware that the situation and the government advice is changing fast, and that there may come a point in the near future where public gatherings in the UK are temporarily halted. As such, we will be constantly reviewing all future screenings on a daily basis, and any cancelled or rescheduled screenings will be listed on this page.
Any changes to our scheduled screenings will also appear on specific film pages and shared across our social media channels.
We want to wish everyone well during this difficult time. When it is safe to do so we'd also encourage you to look out for any vulnerable members of your community, as well continue to support local independent businesses in the city when you can.
Can't find what you're looking for?
Then please do get in touch and we'll be happy to help.